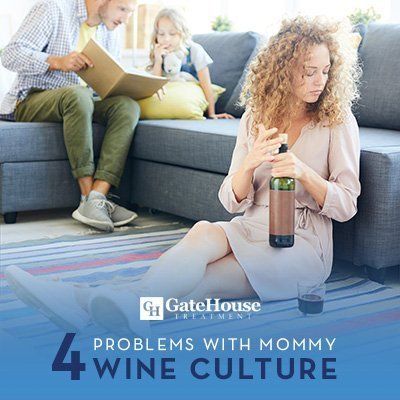 What started as a way for moms to socialize, have a little fun, and serve as a source of playful but harmless memes and social media material ten years ago has taken a wrong turn, and is now developing into a health crisis. "Mommy Wine Culture," originally conceived as a way for overworked and stressed-out moms to relax and enjoy each other's company, has evolved into a crisis of sorts, with many wine mommies paying a tough price for taking what was considered a joke a little too far.
The "Wine Mommy" is a creation of the internet, and although the phenomenon has died down somewhat, it still has a major presence online. Wine mommies were born out of mommy blogs and websites. Basically, the culture was developed as a defense mechanism. It provided overtaxed "supermoms," who somehow managed to work full time, take care of the kids, and maintain a household with an outlet to blow off steam and relax with other moms in the same shoes. A social "club" of sorts, allowed moms to share their stories and be authentic with a group of peers who lived the same sort of lives and wanted to share their experiences, – good or bad.
Predictably, the mommy wine culture took off. Thousands of well-followed mommy blogs were created, and many women with digital marketing skills were able to turn their experiences into cottage industries. Some became internet celebs. Others national spokeswomen for their "culture." Books were written. Products were sold. What the mommy wine culture didn't count on, – or expect – were the problems that many have encountered that started with something as simple as ending the night with a glass of chardonnay after putting the kids to bed. These non-intended circumstances have produced a health crisis for women that no one saw coming. Here are some of the issues that "Mommy Wine Culture" has created.
If you have a wine mom in your life or believe you may be a wine mom with a problem, please reach out to us. We can help you to start the road to your sobriety. Contact us today, at 855-448-3588.